The result of our TheLuckyDate.com review: TheLuckyDate.com turned out to be an insufficient dating website.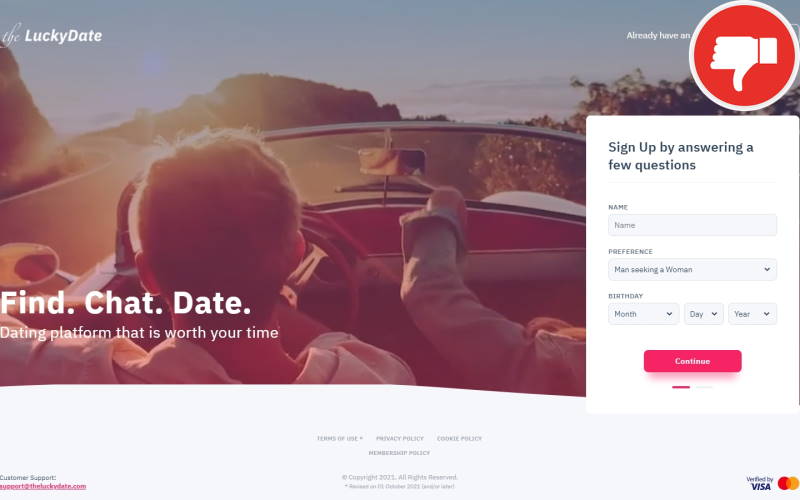 Report for TheLuckyDate.com review
TheLuckyDate.com has a modern design and advertises with a solid offer. But on the internet, this dating portal has a bad reputation. We did some research and found some negative reviews. Former users point out that the members´ pool is full of fake profiles. Some of them also mention a scam with a fake chat.
However, this website is for "entertainment" purposes only. The goal of this site is not to arrange dates. Here, you will pay a lot of money only to chat with others. The chances of a date are low according to the experience of former users. We also found some hints of a subscription rip-off. The operator of this site is Cratelia Ltd. who are based in Gibraltar.
Scroll down to read the details of our TheLuckyDate.com review.
Details on the TheLuckyDate.com review
TheLuckyDate.com looks like a reputable dating site. On the landing page, we see a video of a couple driving in a car. That gives us the impression of a modern dating platform. We assume that this site has many members. Plus, this portal seems to offer various features to ensure high user satisfaction. The registration is free and done in a few minutes. Then, you can enjoy the great advantages which are mentioned on the landing page. According to that information, the handling of the site is simple. Also, the chances of finding a match must be high.
High costs after the registration
TheLuckyDate.com advertises with a solid offer and claims to be a good choice. The landing page looks good and shows an interesting advertising slogan. However, this online dating portal has a bad reputation on the internet. Former users complain about a rip-off. According to the information on the web, this platform is a fake chat and a subscription trap. So, that does not sound good. We checked the website to find out more. The appearance of the site is good. But you should never judge a book by its cover.
The site may look nice, but it does not offer a lot of information. Plus, you cannot copy and paste the legal information. That is another hint for an unreliable website. The operator admits that this site is for "entertainment" only. Entertainment is an often-used synonym for a fake chat. In general, a dating website is not for entertainment. It is an online service which allows you to find matches. Here, you will only be entertained, and you will have to pay for that. High costs will occur after registration for a membership subscription.
The following is stated in the terms and conditions
Any statement that may be posted on the Service is for informational and entertainment purposes only…
Misleading advertising
The operator offers free registration and does not mention that costs will occur. That is not a scam, but it is misleading and irritating advertising. This is not a sign of a reliable website. We also found reviews about another bad thing on this site. Besides the entertainment purpose of the site, the subscription is a trap.
On the internet, we found a few reviews by former users. They explain that a new member will receive many messages after the registration. Those messages persuade users to make a purchase. A premium-membership is needed that will extend automatically, if it is not terminated in time. That does not have to be bad, but here it is part of a rip-off. According to the information on the web, the operator makes termination difficult.  Also, the location of this operator is a hotspot for that kind of scam.
Contact details
Cratelia Ltd
5-9 Main Street
GX1 11AA
Gibraltar
How to cancel
To cancel your premium-membership, please contact customer support.
The conclusion from our TheLuckyDate.com review
TheLuckyDate.com is a rip-off with a subscription trap and a fake chat. This site has a bad reputation on the internet. After the registration, costs will occur for a premium-membership which will extend automatically. Here, that is used as a trap. This website is for entertainment only, which means that it is not a dating service. You will chat with moderated fake profiles.
Let us know your TheLuckyDate.com experience in the comments as well.