The result of our Single60s.com.au review: Single60s.com.au turned out to be an insufficient dating website.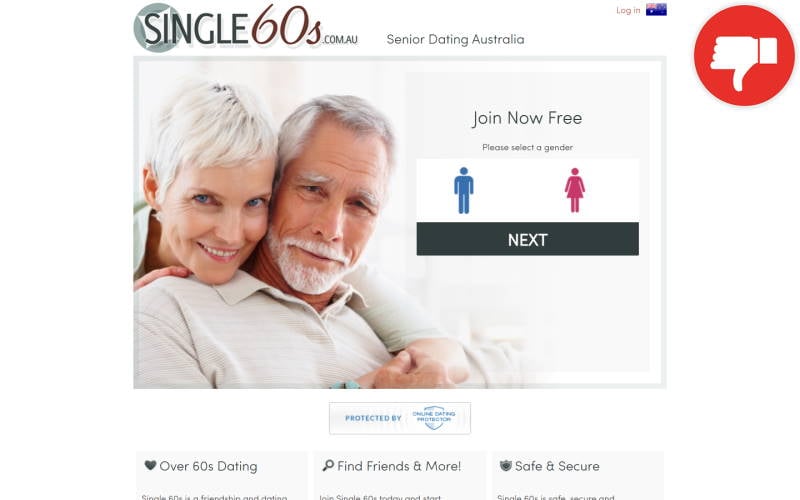 Report for Single60s.com.au review
Single60s.com.au promotes itself as a website where users over the age of 60 can find friendships and dates. The developers of Single60s.com.au believe true love is worth waiting for and can appear at any stage in your life; no matter the twists and turns you have taken along the way. Therefore, they invite you to forget the negative experiences that you may have had in the past and give love another chance by signing up for this platform.
Venntro Media Group Ltd is the name of the company that runs Single60s.com.au. They are registered in Slough, UK. This company has a bad reputation online. Several former users have already left reviews, accusing them of various rip-offs. They run a huge network of unreliable dating platforms. Single60s.com.au isn't any better. After some extensive research, this portal turned out to be a fake chat scam.
Scroll down to read the details of our Single60s.com.au review.
Details on the Single60s.com.au review
The landing page of Single60s.com.au advertises a great offer. The design is clean and professional. The page doesn't display any explicit content. This is clearly a website designed for those who are looking for sincere friendships and relationships rather than casual erotic experiences. It appears that there is nothing to lose since it's completely free to sign up. Everyone is invited to register and start searching for local members.
We accepted the website's invitation, and we created a profile to fully test the platform. The registration process didn't present any issues. The whole procedure was completed in less than 5 minutes. However, as soon as we accessed the member's area, the true nature of Single60s.com.au revealed itself.
Wasn't it free?
The basic membership allows users to just browse the member's area and upload one picture. Other than that, users basically can't do anything else. Even the chat features are disabled. The much-hyped free registration was just a misleading piece of information. Surely this is a scam, for users will have to spend money afterward, despite the free registration. Without spending money on Single60s.com.au, the platform is completely useless.  Users cannot communicate with anybody unless payment is involved.
To gain access to the website's full service, users need to purchase a premium membership. We strongly advise our readers from doing this for two precise reasons. Firstly, the subscription renews automatically and could lead to a costly subscription trap. Furthermore, it doesn't matter how much you spend on this site. The chances of meeting someone in real life through this scheming platform are non-existent.
The following text is from the Terms and Conditions
By using this service you accept that any member profiles, messages and communication may not be genuine.
Real dates? No chance
The site's dating service provider acknowledges that there is a high chance that all communication from this site may not be genuine. Users may receive messages from fake profiles. As a matter of fact, the member's area contains fictitious profiles, which are operated by either professional moderators or by a piece of software. Anytime users receive a message through this site, chances are that it was sent by someone or something operating a fake profile. Since these accounts cannot be distinguished from genuine ones, it's best not to trust anybody.
This is not the first time that Venntro Media Group Ltd used a fake chat scam to rip off their customers. In the past, we have already written several reviews about other similar dating platforms operated by this company from Slough, UK.
The conclusion from our Single60s.com.au review
On the surface, Single60s.com.au seems to be the ideal place for senior citizens who are looking for a new partner or friend. However, as soon as we read the name of the website's company, we knew from the start that we couldn't expect anything good from them. This portal is just another one of their scams. Most of the profiles found in the member's area are fictitious. As a result, it's impossible to meet with someone in person through this fake dating website.
Let us know your Single60s.com.au experience in the comments as well.