The result of our OlderDatingAgency.com review: OlderDatingAgency.com turned out to be an insufficient dating website.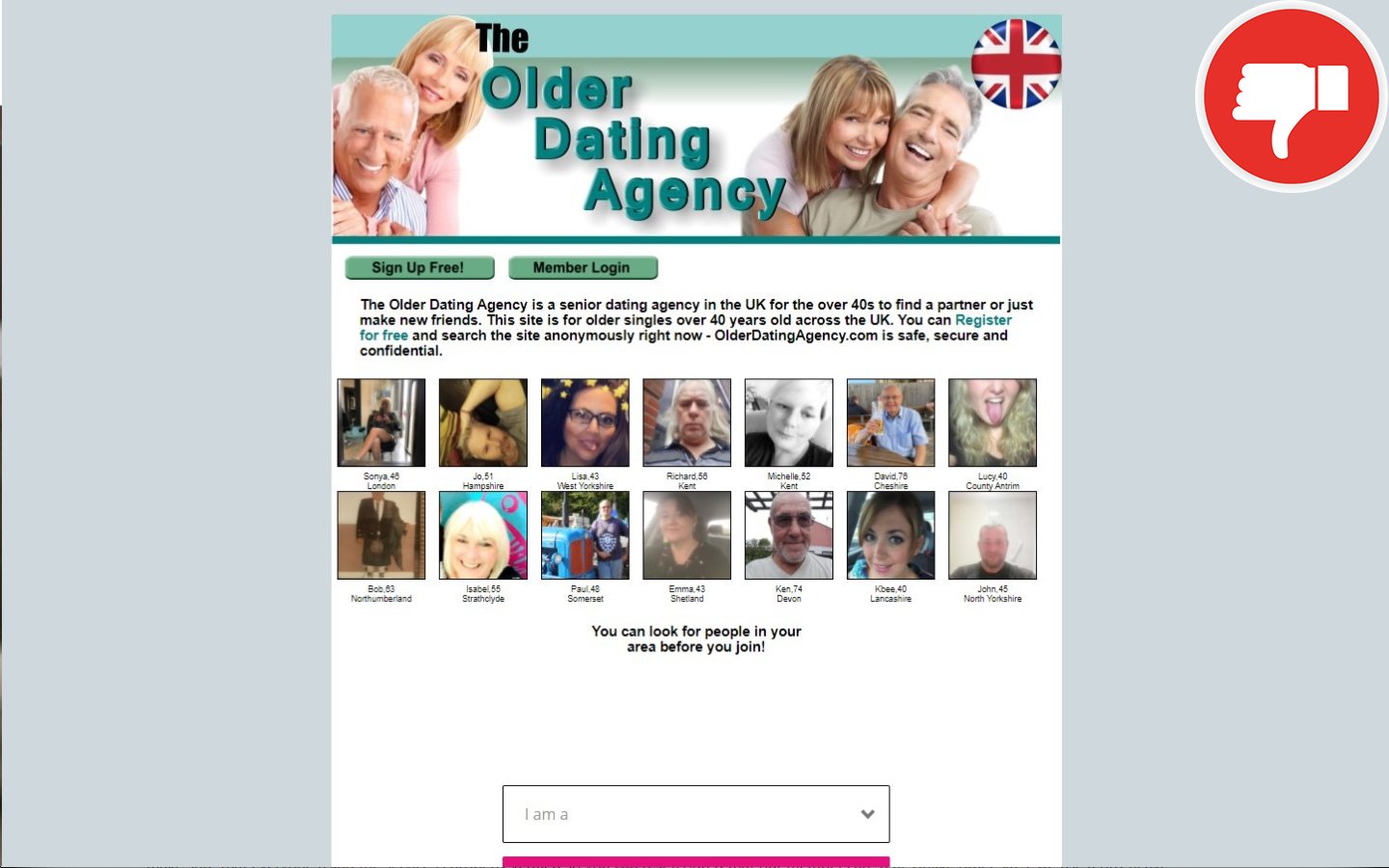 Report for OlderDatingAgency.com review
The senior online dating site OlderDatingAgency.com has a very unusual home page. We see a happy looking older couple and different national flags, with the request to choose one. After that, you will be redirected to the actual homepage which is in the style of the eighties.
We do some research and find out that the operator behind the dating portal is the Venntro Media Group Ltd., headquartered in Slough, the United Kingdom. We have reported already about this operator and his massive network of various online dating websites. Each one of them is nothing more than a big rip-off. Either it is a moderated chat with faked profiles, or a subscription trap or both. After reading some of the many terrible testimonies by angry former members, it becomes clear that the portal OlderDatingAgency.com has a moderated chat, and lures people into subscription traps.
Scroll down to read the details of our OlderDatingAgency.com review.
Details on the OlderDatingAgency.com review
The OlderDatingAgency.com is a senior dating agency in Australia for the over 40s, which claims to find you a partner or make new friends. This site for mature singles operates across Australia. You can register for free and search the site anonymously. The portal advertises that OlderDatingAgency is safe, secure and confidential. We start our investigation to find out.
The registration is similar to many other dating portals. First, you have to choose your preference, provide your name, age, and a valid email address. Then you need to agree to the terms and conditions and choose a password and that is all.
The new member will then be redirected to the main page and is asked to fill out their profile. We skip this step and need to confirm our email first, before we can finally activate our account. The main members' area looks very disappointing. The design and style are totally outdated, and the interface is outmoded as well. The operator Venntro Media Group Ltd., based in Slough, the United Kingdom, has not made much effort here.
To read and reply to messages, the member needs to upgrade their account. The subscription packages are part of the scam. They will not only extend automatically, but they are also hard to terminate. We found hundreds of testimonies from people complaining about the website and their cheeky tricks. Many of them are trying to sue the operator and seeking legal help. The operator is admitting the automatic renewal policy in their terms and conditions.
Automatic subscription renewal
"For your convenience, we will automatically renew your subscription when your current term comes to an end. If you wish to cancel your subscription you can do so at any time. This can be done by logging onto the site and going to "Contact us" and follow the instructions on the website. We will cancel your subscription within 24 hours of your request."
Here an excerpt of one of the many bad testimonies from former users
"I joined this site for 3 months for a trail..
At end of three months I was charged for a further 3 months which I didn't authorise. They claim as I didn't tick a box it automatically renews. I have now a closed profile which I have paid for and do not wish to use.
DO NOT TRUST THIS SERVICE"
Other people complain about faked profiles and that the operator is using moderators to lure the customers into their subscription traps. We also read about moderated chats. During our research, we could not find real proof for the accusations, but we think something is fishy for sure.
"The Site is an entertainment service" is another excerpt from the terms and conditions. Should a dating portal not be a place, or a service, to connect people and not only be made for entertainment purposes?
Contact details
Venntro Media Group Ltd.
The Switch
1-7 The Grove
Slough, SL1 1QP
United Kingdom
How to cancel
"You may terminate your subscription with us before your next renewal date. Cancellation may only be requested by completing the online cancellation process on the site. From your PC or tablet, log in to your account and go to 'Account > Site Membership'. Under 'Help With Your Membership', click 'here' to cancel your subscription. From your mobile, log in to your account. From your dashboard, scroll down and tap 'Account > Help'. At the bottom of the page, under 'Cancelling your subscription' click 'here' to cancel your subscription. A request for cancellation under this clause does not give rise to a refund for any unused amounts of Subscription fees paid."
The conclusion from our OlderDatingAgency.com review
We have written several times about Venntro Media Group Ltd., the operator of the website from England. They run a network of over 3000 dating websites, and all of them have a terrible reputation. On this site the visitors are lured with misinformation into expensive memberships. We also doubt very much that you can meet anybody here.
Let us know your OlderDatingAgency.com experience in the comments as well.