The result of our NaughtyMatureProfiles.com review: NaughtyMatureProfiles.com turned out to be an insufficient dating website.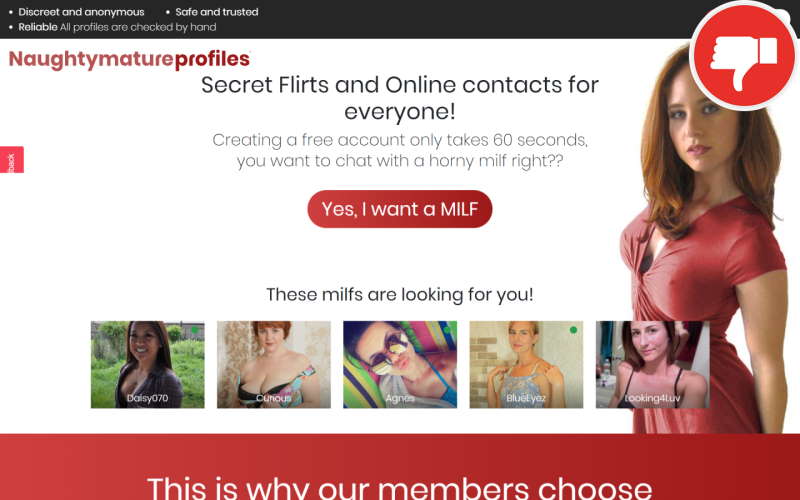 Report for NaughtyMatureProfiles.com review
At first glance, NaughtyMatureProfiles.com seems like a casual dating portal for people who are into ageing folks. The problem is that our review revealed that the chances of meeting a real person on this website are virtually non-existent. The profiles on the landing page are all fake. In other words, users will only experience fake chats and will not be aware of them. The site's only purpose is to make them spend more money.
The company responsible for this unethical service is Festivus Media BV, from The Hague, Netherlands. They are not new to us, as we have had bad experiences with other websites from the same company. Our review revealed that NaughtyMatureProfiles.com uses fake operators that operate fake profiles to rip off its users.
Scroll down to read the details of our NaughtyMatureProfiles.com review.
Details on the NaughtyMatureProfiles.com review
The online dating portal NaughtyMatureProfiles.com advertises as the perfect place to meet "mature" people. However, most of the profile pictures used on the landing page depict rather young ladies. They may do a better job at advertising after all. However, a scrutinous eye will soon find that, at the bottom of the page, "the profiles on NaughtyMatureProfiles.com are fictional: physical arrangements with these profiles are not possible". As the service comes at a cost, obviously, this is clearly a rip-off.
Indeed, users will have to pay for expensive "credits" in order to keep chatting with fake operators. Their only purpose is to generate as many messages from the users as possible, in order to increase the income of the site. 1 credit costs $2.75, but if you are willing to pay $437.95, the price of a credit drops to $1.46. Now, isn't that a great deal?
We found the following note in the terms and conditions
This Website or Service is for adult entertainment purposes; it is not our aim to bring physical appointments/contact between members. User is aware and agrees that we may use moderated and fictive profiles for online adult entertainment purposes.
Fake profiles
So, in its terms of service (TOS), NaughtyMatureProfiles.com clearly acknowledges the use of moderators to encourage conversation through fictive profiles. However, most users find this to be deceptive as there is no possibility to actually date these individuals. As we see it, fake profiles are merely created to trick users into believing that they can truly meet their soulmate, while luring them into spending money in the fake chat. This experience is a clear rip-off.
The operator behind this unscrupulous cheeky scam is Festivus Media BV, from The Hague, Netherlands. This company has a terrible reputation on the web, as we found many negative reviews from former users complaining that this website is nothing other than a blatant rip-off with fake chats. Well, at least NaughtyMatureProfiles.com does not even try to hide it, as it is clearly written at the bottom of the page!
The conclusion from our NaughtyMatureProfiles.com review
Our review shows that NaughtyMatureProfiles.com cannot be trusted at all. It is a patent scam with fake chats where fake operators run fake profiles to lure users into buying an illusion. To avoid disappointment, high costs, and a terrible experience from this deceitful operator, we strongly advise against registering on this website.
Let us know your NaughtyMatureProfiles.com experience in the comments as well.