The result of our HotLonelyWives.com review: HotLonelyWives.com turned out to be an insufficient dating website.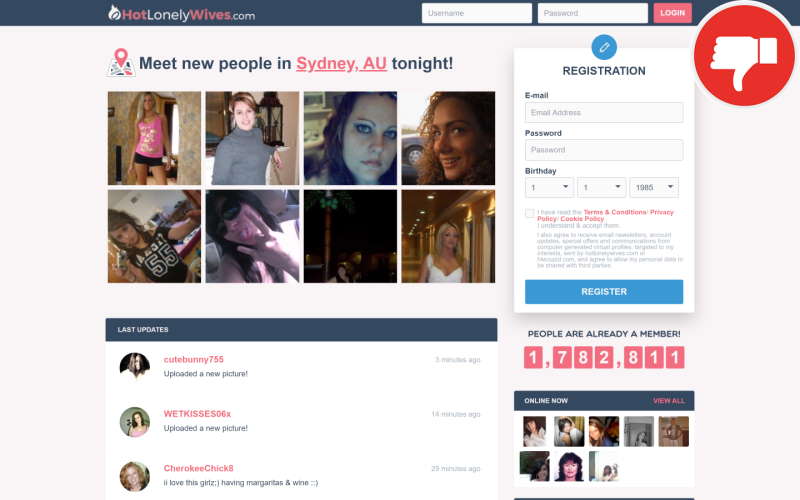 Report for HotLonelyWives.com review
HotLonelyWives.com may look like a normal dating portal, but it is not. We did some research on the internet and found negative reviews. Former users did not have a good experience with this platform. Based on their reports, this site is a scam with fake chats and a subscription trap.
Even though the use of computer-generated virtual profiles is noted on the landing page, but it still does not explain the purpose of chat moderators. As any scam website would do, chat operators lure users into a fake chat so that users may fall for a subscription trap. The premium-membership extends automatically, which is not always bad, but here it is a rip-off. The operator of the platform is Safe Escape Ltd, which is located in St. Pierre Du Bois, Guernsey.
Scroll down to read the details of our HotLonelyWives.com review.
Details on the HotLonelyWives.com review
The casual dating platform HotLonelyWives.com appears to be a good choice for singles in Australia. Registration is free for both women and men. Plus, the website already has a lot of members. That means the chance of successfully getting a date must be high as well. From the landing page, we know that this portal has more than 1.7 million active members. However, it also mentions the possibility of fictional profiles. It is not explained though, if all profiles from the website are fictional or not. Therefore, we could still assume that it is a legit dating site.
All profiles are fake
HotLonelyWives.com advertises with many profiles on the landing page. At first glance, the site appears to be a great choice to find dates, but the profiles area actually all fake. The site discloses that computer-generated profiles are used on their site, but users are unable to identify who is real and who is not. We did some research through the internet and uncovered reviews about a scam with fake chat services.
The profiles are not controlled by chat operators. Computer programs control the fake profiles, which are not marked as such. Additionally, the bots will take the first step of engaging fake chats with users. Users are left unaware and will blissfully purchase a subscription thinking they can continue chatting with actual people. As a result, the goal of a computer-generated virtual profile is to deceive users into buying subscriptions in order to increase the income of the operator.
The following is stated in the terms and conditions
5.1. Notwithstanding the foregoing, by and throughout your use, access and interactions to and with the Services and related content, You may interact with content generated by, or with the assistance of, automated online accounts ("Bots" or "Automated Profiles"), where none – or substantially none – of the actions and posts of that Automated Profile are the result of, or arise in connection with, a natural person's profile or otherwise User Content.
This site is a bad choice
Costs will occur for a premium-membership users after the registering. As we see it, having free registration is the method used to mislead customers. The subscription for the premium-membership is not just expensive, it is useless because of all the fake profiles. That is the scam for which the operator of the site is known for. The site's operator is very sneaky. They purposely avoid request for subscription terminations that were made before the deadline. This way, the deadline for cancellation will be missed and the subscription renews automatically.
On the internet, we discovered a lot of negative reviews about the site. In accordance to the experiences from former users, the chances of finding a real match are zero. This site is truly infamous for its scheme. Other sites, associated with Safe Escape Ltd, are all a rip-off with a fake chat strategy and a subscription trap.
Contact details
Safe Escape Ltd
De Beauvoir Rue De L'Eglise
St. Pierre Du Bois, gy79sa
Guernsey
How to cancel
To cancel your premium-membership, please contact the customer support.
The conclusion from our HotLonelyWives.com review
HotLonelyWives.com is a rip-off with a fake chat and a subscription trap. Computer-generated virtual profiles are used to increase the income of the operator. The fictional profiles are controlled by bots and will actively start a chat. Most users are oblivious to this scam and are willing to pay for an expensive premium-membership. The subscription for that membership is a cheeky trap.
Let us know your HotLonelyWives.com experience in the comments as well.