2023/09/02
FlirtHub.net review
The result of our FlirtHub.net review: FlirtHub.net turned out to be an insufficient dating website.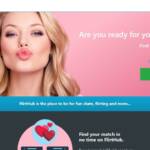 Editorial rating (1 of 6)
Pro / Contra List
Fake Chat Scam

Fake Operator

Fake Profiles
Unlikely to meet

Negative comments

Very expensive
Report for FlirtHub.net review
FlirtHub.net is the place to be for fun, chats, flirting and more, is the slogan which the online dating portal greets visitors with. A charming blonde woman with puckered lips in front of a pink background, and the promise that the free sign up needs less than a minute, tries to encourage new users.
During initial research and we learn that the operator of FlirtHub.net is D Support BV, based in Zutphen in the Netherlands. We have already reported about this company in the past and know that they are managing several dating websites. All of them are a scam and lure people into expensive chats by using faked profiles and moderated chats. The portal FlirtHub.net is not different at all. D Support BV also uses the same cheeky tricks to extract money from naïve users.
Scroll down to read the details of our FlirtHub.net review.
Share your experience of FlirtHub.net with us by writing your own review.
We recommend one of our test winners!

Casual Dating
50+ million members worldwide

Single, attached, looking to explore, or just curious to discover what's out there
Details on the FlirtHub.net review
The landing page of FlirtHub.net gives the impression of being a legit online dating platform and provides a small preview of existing members. The only information the visitor gets is that the sign-up is free and there is a mobile application of FlirtHub.net available.
The website has the typical sign-up process like many other dating platforms. After providing personal preferences, location, age, gender, and a valid email address, the new member will be redirected to the primary members' area. The newbie must confirm his email; otherwise, it will not be possible to discover the page. The page has a clear layout, and the interface is easy to use. All necessary features like personal profile setting, various filters, and search functions and more are provided, and invite the new members to browse through hundreds of member previews.
Contrary to the naïve new users, we know that the website's members pool is full of faked profiles
Behind those fantasy profiles hide employees of the operator who have only one goal, to animate members into expensive conversations. The trick is simple, the moderators attack the users with countless messages, texts and emails with engaging and often adult content. But it is not possible to reply to all the faked messages without purchasing costly credits. The registration is indeed free of charge, but anything else on the FlirtHub.net costs a lot of money. On average, one message costs about $1.00, a lot of money for a chat with a fictitious profile. It becomes clear that on this online dating portal, a real date will never happen.
Excerpt from the Terms & Conditions (as of 02/09/2023)
PLEASE BE AWARE THAT CONTENT PROVIDER MAY USE HOSTS THAT ARE EMPLOYED OR UNDER THE DIRECTION OF THE CONTENT PROVIDER. THE HOSTS MAY SEND CONVERSATIONS OR OTHER COMMUNICATIONS WITH YOU AND OTHER USERS OF THE PLATFORM THAT ARE FICTITIOUS OR ROLE-PLAYING IN NATURE.
The company D Support BV uses this rip-off scheme of moderated chats, faked profiles, and misleading information also on the dating website FlirtHub.net. So it is not surprising that we found many bad testimonies from former members on the internet.
Contact details
D Support BV
Waterstraat 5
7201 HM Zutphen
Netherlands
How to cancel
Step 1. Log in to your personal account.
Step 2. Now click on the "Settings" menu. You can then easily unsubscribe from the "Cancel account" section. You will then receive a confirmation by email immediately afterwards. Your account will be closed after exactly 14 days. Only then will all your data be deleted.
The conclusion from our FlirtHub.net review
The dating website FlirtHub.net is run by a well-known company which operates a lot of rip off portals. The scam is misleading information, moderated chats and fictitious profiles. Only the registration is free, and if the user wants to be active, he needs to buy credits, because every single message cost money. The members' pool is full of fantasy profiles, and it will not be possible to meet someone for a real date.
If you would like to learn more about the dating scam, check out our other reviews. You can also easily check which other dating websites belong to D Support BV.
If you have already had experiences with FlirtHub.net, please share them with our community and write a review. Use the form at the bottom of this page.
Know someone who might be interested in this FlirtHub.net review? Share a link to this review via Email, X (Twitter) or Facebook.
Frequently asked questions about FlirtHub.net
Yes, according to our research, the dating site FlirtHub.net is a scam.
According to the information we could find, the operator is D Support BV. However, the owners of negatively tested dating websites change very often. Therefore, it is possible that another operator has been registered in the meantime.
We currently have no other reviews about D Support BV dating sites in our database. However, this does not mean that other sites do not exist.
The review of FlirtHub.net was published on September 18, 2020 on DatingSpot24.com.
The review of the dating website FlirtHub.net was last revised on September 2, 2023.
Based on the results of the research on the dating website FlirtHub.net, the editors have given it a rating of 1 spots.
We recommend one of our test winners!

Casual Dating
50+ million members worldwide

Single, attached, looking to explore, or just curious to discover what's out there
No user experiences available yet. Be the first and write now about your experience with the dating site FlirtHub.net.
We recommend one of our test winners!

Casual Dating
50+ million members worldwide

Single, attached, looking to explore, or just curious to discover what's out there