The result of our CasualHookUp.com review: CasualHookUp.com turned out to be an insufficient dating website.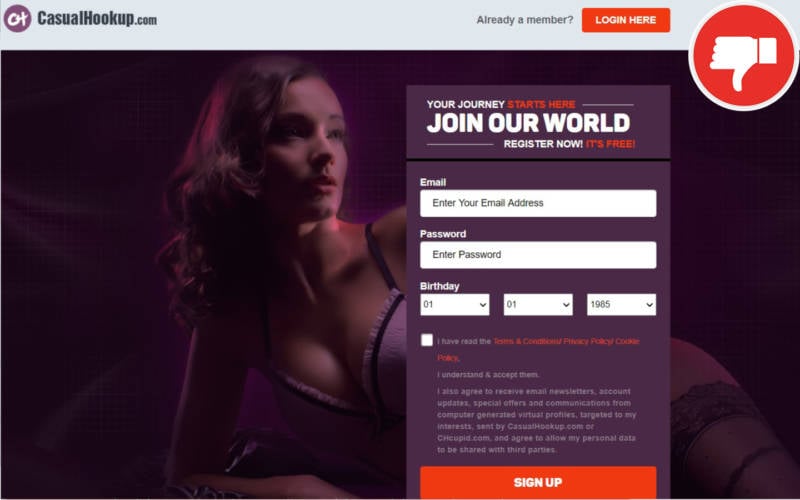 Report for CasualHookUp.com review
The online dating platform CasualHookUp.com displays enticing profile pictures on the landing page. We looked into it a bit further and found that these profiles show fictional people and are operated fake profiles. This site is a scam with a fake chat.
Fake operators manage these fake profiles and entice the user to get a paid premium-membership. A subscription is needed to get in touch with others. Unfortunately, the new user does not know about the fake chat and assumes that they are connecting with real people. Additionally, the subscription will be automatically extended, which appears to be a trap as well. CasualHookUp.com is operated by the company Theme Bow Limited.
Scroll down to read the details of our CasualHookUp.com review.
Details on the CasualHookUp.com review
The landing page CasualHookUp.com shows a good offer. Included in the offer is a high number of active members and a free registration. This sounds good, however this information is misleading. The registration is for free but the use of the website is not. A user will need a paid premium-membership to get in touch with others.
A paid dating website is not uncommon. An automatic renewal also does not necessarily mean this is a rip off. But we have found some problems with this site. We researched further and found that the operator of the website has a bad reputation on the web and gets a lot of criticism for subscription traps.
A user of this site will be required to pay money for a subscription, in order to chat with others. Unfortunately, the other profiles on this site are fictional. We found that the profiles on the landing page and later in the members pool are fake. Fake operators utilise fake profiles to entice the user to a chat. In order to chat, a user will need to purchase paid membership. We believe that that this website is a trap due to the fake profiles.
This fake chat is also mentioned in the Terms and Conditions:
"we may post fictitious profiles, generate or respond to communications by means of automated programs or scripts that simulate or attempt to simulate your intercommunication with another real human being"
A fake operator will not identify as a fictional person and the fake profile is not marked as such. In a nutshell, the user can't spot a fake profile and gets tricked by fake operators. The operator of this site uses clever tricks to entice the user to register and spend money. This site is operated by Theme Bow Limited which is located in East Sussex, United Kingdom.
Contact details
Theme Bow Limited
Office 6B
The Watch Oak
Chain Lane
Battle
East Sussex TN33 0YD
United Kingdom
The conclusion from our CasualHookUp.com review
The dating website CasualHookUp.com advertises misleading information. After the registration fake operators will entice the user to a chat so that the user pays for a membership. The membership will extend automatically which is also a trap. Either way, this website charges the user money to chat to fake profiles, so an actual meeting in person would never be possible.
Let us know your CasualHookUp.com experience in the comments as well.