2023/11/03
AffairsDownunder.com review
The result of our AffairsDownunder.com review: AffairsDownunder.com turned out to be an insufficient dating website.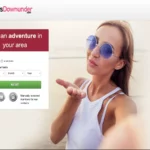 Editorial rating (2 of 6)
Pro / Contra List
Subscription Rip off

Fake profiles

Bad experience
Unlikely to meet

Negative comments

Very expensive
Report for AffairsDownunder.com review
When we first saw the dating platform AffairsDownunder.com, the layout of this website appeared very well-known to us. It seems that the service provider Paidwings AG based in Cham, Switzerland has created a new website with similar content to its other sites. The layout is very simple, and the website advertises itself with the slogan 'Find an adventure in your area.' There is also an image of a girl blowing a kiss. After signing up and clicking through some personal questions, users can only find profiles that are blurred out.
Also, reading and sending messages is not possible to do. Users must first buy a membership if they want to use the full services of this site. All the facts pointed out in the Terms show a clear indication of a subscription rip-off. Additionally, we found many bad reviews about the operator which confirms the experience we had.
Scroll down to read the details of our AffairsDownunder.com review.
Share your experience of AffairsDownunder.com with us by writing your own review.
We recommend one of our test winners!

Casual Dating
50+ million members worldwide

Single, attached, looking to explore, or just curious to discover what's out there
Details on the AffairsDownunder.com review
During the registration process of AffairsDownunder.com, users will go through different steps. The first one is choosing their interests such as piercings, role play, types of fetishes, the number of partners, or where to meet. In the next step, users have to describe their appearance. Once that is done, they can write a little introduction about themselves and upload a photo. However, all these steps are not mandatory for signing on to this site.
After completing the registration process, we received a message from someone who's supposedly interested in us. Unfortunately, we were unable to read or reply. Clicking on the message in the inbox redirected us to the information page for memberships. We were given the option to choose between a starter subscription for 65 AUD per month, or 150 AUD for 3 months, or the deluxe package for 240 AUD for 6 months. It can all be paid easily by credit card. Without a membership, all the messages will be blurred out. All of this points to this website being a scam.
Unreliable operator
The operator Paidwings AG based in Cham, Switzerland seemed reliable due to its location. Switzerland is famous for its seriousness and quality products. Sadly, all that glitters is not gold. The whole appearance is built for a subscription rip-off as we can see in the Terms and Conditions.
Excerpt from the Terms & Conditions (as of 02/11/2023)
3. The term of a paid membership (Premium) corresponds to the period shown in the package description or the period selected by the user when ordering the package (initial term). The initial term is a maximum of two years. If the membership is not terminated at the end of the initial term, the contract shall be extended for an indefinite period (contract extension). The period of notice, or, if a different period was stated when the paid access was purchased, for memberships with a term of no more than one month: 14 days, and for memberships with a term of more than one month: 30 days.

The termination of the fee-based contractual relationship must be in text form in order to be effective. To ensure successful processing of the termination, the declaration should contain the full name, the service used, the e-mail address used for registration and the user name. The cancellation can be sent via e-mail to support@datingcustomercare.com. Alternatively, we also offer the termination of the fee-based contract by post.
Subscription trap
As we can see in the Terms and Conditions and from our experience, this site is possibly a subscription rip-off. There's a chance that users will not receive any messages once they start replying to the messages they received. Eventually, users will send a cancellation letter from Australia to Switzerland which costs them extra money. Users will probably not get any information from the operator. User memberships will continue, and the only thing users can do is cancel their credit card.
The conclusion from our AffairsDownunder.com review
The online dating website AffairsDownunder.com seemed to be serious and reliable at first due to its point of origin: Switzerland. Unfortunately, this is the only positive point about this operator. After registering, users can only see blurred profiles and messages. They are unable to send messages unless they purchase a membership. Additionally, cancelling memberships from the other side of the world can be very hard. Also, due to other online reviews about this company, we can determine that this site is a clear scam and a subscription rip-off.
If you would like to learn more about the dating scam, check out our other reviews. You can also easily check which other dating websites belong to Paidwings AG.
If you have already had experiences with AffairsDownunder.com, please share them with our community and write a review. Use the form at the bottom of this page.
Know someone who might be interested in this AffairsDownunder.com review? Share a link to this review via Email, X (Twitter) or Facebook.
Frequently asked questions about AffairsDownunder.com
Yes, according to our research, the dating site AffairsDownunder.com is a scam.
According to the information we could find, the operator is Paidwings AG. However, the owners of negatively tested dating websites change very often. Therefore, it is possible that another operator has been registered in the meantime.
We currently have no other reviews about Paidwings AG dating sites in our database. However, this does not mean that other sites do not exist.
The review of AffairsDownunder.com was published on November 3, 2023 on DatingSpot24.com.
The AffairsDownunder.com test report has not yet been updated again.
Based on the results of the research on the dating website AffairsDownunder.com, the editors have given it a rating of 2 spots.
We recommend one of our test winners!

Casual Dating
50+ million members worldwide

Single, attached, looking to explore, or just curious to discover what's out there
No user experiences available yet. Be the first and write now about your experience with the dating site AffairsDownunder.com.
We recommend one of our test winners!

Casual Dating
50+ million members worldwide

Single, attached, looking to explore, or just curious to discover what's out there