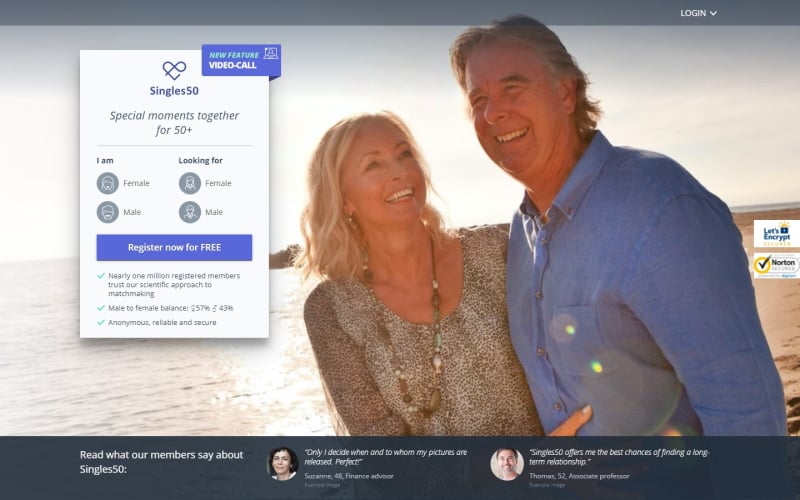 Singles50: Test winner "Seniors"
Love knows no age. As online dating becomes more and more popular in Australia the number of sites for seniors only, can advertise with rising numbers of members. One of the best choices for silver ager dating is Singles50.com.au.
Summary
Operated by a highly regarded company
Nearly one million registered members in Australia
24,000 new members every day
Balanced gender-ratio: 51% female and 49% male members
Members from all regions and social strata
Particularly good matchmaking results thanks to a scientifically based personality test
A high success rate and anonymous dating
Smart functions: video-call is now possible
Thanks to a manual check there are no fake profiles
Members with high levels and standards
Costs will originate for a subscription
Nearly one million people are registered here on this online dating site for seniors. But Singles50.com.au can advertise with much more than just a huge members pool. The platform offers a great service for its customers which led to a high customer satisfaction rating. Matchmaking is made by a scientific approach to the matching system.
General information about Singles50.com.au
Finding a partner can be quite hard, especially here in down under. Getting older does not make things easier. But luckily Singles50.com.au does make things easier and might be the perfect opportunity for you to find your match.
The online dating platform is operated by a well-known company which has run several high-quality dating sites for many years. But it is not just the long time being in business but the success of all their sites as well. The company be2 S.à.r.l. is based in Luxembourg and knows exactly that their users are looking for.
Here on Singles50.com.au people are trying to find a serious commitment. Plus, as the number on the name of the websites explains, this site is for 50+ singles only. This portal is a matchmaker and not a casual dating portal. If you are looking for a one-time adventure, the operator has got some other great platforms that you could visit. But if it is love that you are looking and you are a silver ager, this portal is one of the best choices that you can make.
The potential matches on Singles50.com.au are extremely accurate thanks to the scientifically based personality test. Your results from the questionnaire will be used to make sure that you will get an optimal online dating experience. This experience is enjoyed by nearly one million users who come from all sections of Australia. The gender ratio is quite balanced with a little higher percentage of women than men.
The registration process
The registration process takes a little while
Includes a scientifically based personality test to find your match
Matchmaking is based on the test and its results
The registration and the personality test are free of charge
After the registration a new user will receive a free basic-membership
Singles50.com.au offers a free registration for everyone. The process is simple and done in about 10-20 minutes. So, make sure that you have enough time to think about your answers. Again, the test is not hard, but the more accurate your answers are the better your matches will be later.
The questions in the questionnaire are mostly multiple-choice. All questions in the test will be used for matchmaking by a smart algorithm that will find a soulmate matched with your character, preferences, and your perception and so on. After the scientifically based questionnaire the registration process comes to an end by providing more general details about yourself.
Besides the questionnaire you will have to enter your contact details as well. Singles50.com.au will ask you for your name, age, region, profession, education and your yearly income. You can enter more details about your religion, social habits like drinking or smoking, and some details about your personality and appearance.
It is possible to edit the information you provide in the last step later, in your profile settings, at any time and as often you want. But the information you provide in the personality test cannot be changed later in your profile. If you want to change something in your test, you will have to request a chance first, to edit something. That is another reason why you should take your time for the registration and the scientifically based personality test.
Design and handling
Modern design with a good overview
The handling is extremely easy on all kinds of devices
Singles50.com.au is designed for the older generation. That means that even people who are trying online dating for the very first time will get along with the portal. All features and functions are easy to find and are self-explanatory. The online dating website appears in a good and modern fashion. So, even if younger people chose to use this portal, they would not get bored.
The main colours used are white as the background colour and black characters. Some sections or special features are displayed in a pink or green colour. The slightly different use of colours makes the use of the website not only great for its appearance. Even after hours and hours of chatting your eyes will not get tired.
The whole site is extremely easy to navigate through and will give you the chance to chat with others, sharing some more details about your life, see some photos, and much more.
The platform does not offer a lot of different features, but there is everything you need to find a match and to get in touch with her or him. Singles50.com.au has all basic search functions to spot a new member in your area, then you have the choice of how you want to contact that person.
The members' pool of Singles50.com.au
Nearly one million registered users in Australia
About 24,000 new registrations on a daily basis
A balanced gender ratio - 51% female and 49% male members
People in the age of 50+ only
Members with a high level of standards
The members of Singles50.com.au come from all parts of the country. Since this platform is operated by one of the best regarded companies for dating platforms in the world, the number of members is rising fast. Not just because the operator is well known, but because it also offers a great service. The operator convinces its global customers with excellent privacy protection, a good customer service and a solid offer. Now, this dating site for seniors has nearly one million users in Australia.
Even if this number sounds too small for such a huge country, the operator guarantees to find you the absolute best match. Moreover, this match will be close enough for you to also meet in real-life. On Singles50.com.au there is also a new feature which makes distance a thing of the past. Now you can meet your match via a video-call and get to know her or him much better in much less time.
In general, this site can advertise with high quality users and a balanced gender ratio. All users are at least 50 years old and know exactly what they want and what they do not want. Plus, as this is a matchmaker, people here are not looking for a casual date. That does not mean that you can not have fun while chatting or dating with another user, but in the end, the members are looking for a serious commitment.
The compatibility rating
The video-call feature is the latest thing on Singles50.com.au but as we see it, it is not the best. In our opinion the compatibility rating is still the best thing about this dating portal. It will just take a glimpse to see if you and another member would potentially fit together. When you check out another user's profile you will see a number. This number is the compatibility rating between this person and you. The number is calculated by the algorithm which uses your answers from the personality test. So, it is necessary that you answer honestly in the questionnaire to get the right compatibility rate. Plus, you should edit enough information in your profile. This way other people can also find you, as a complete profile full of information is much more appealing and interesting than an empty profile.
Sure, you can check out every member´s profile with which you have no compatibility at all. Also, you can contact every user of Singles50.com.au to find out if things could work out or not. But the compatibility rating will tell you in one second if this person could be a great match and even your dream partner, otherwise you would maybe just spend your time for nothing.
If the feeling is right, you can start a conversation. If you don't know how to start the chat do not worry about a thing. This site makes the process of getting in touch smooth and simple.
How to get in touch
Singles50.com.au will only offer you the very basic features to get in touch with another member. However, this portal does give you some alternatives to start a chat and to find out if another member might be interested to meet you.
If you find a user`s profile that looks like a good match to you, you click on it to get started. On the profile you see a selection of different functions to contact that person. First of all, you can add a member to your favourite list. This way you will not lose track to this person. But be aware that this person will get a notification that you added their profile into your favourites list.
Another way to get in touch with a member is to send a smile. If you get a smile back, it is a clear sign that you are not a bad match for this person as well. So, if you get to that point, you should send a personal message. By personal we mean personal. This site offers a good selection of ice breakers which are automated questions to make the first contact. But those automated ice breakers will never be as good as an individual charming first message.
The video-call
The operator of Singles50.com.au is permanently working on new facilities, features, and functions. One of the latest great functions on this portal is the video-call facility. If you have been chatting with your match for a few days and want to take the next step, but you are not sure if the time is right for a date, the video-call is the perfect solution.
If you want to make a video-call you must ask for permission to call a member. This way you can talk with your match and even see her or him. This is a great opportunity to get to know each other much faster. Plus, talking with someone is a completely different thing from writing to a person. It will take the process on to a higher level. But to make a video-call or to have a private chat with your match, you will need a paid membership.
The rates on Singles50.com.au
Singles50.com.au offers you a free membership right after the registration. You can check out the site and get some impressions. Then you have the choice if you want to get a premium-membership or not. It is free of charge to create a profile, to take the personality test, and to upload photos and to send a smile.
A paid membership will allow you unlimited access to all contact features, to view all profile photos, add contacts to your favourites list and make a video-call
Basic premium-membership costs AU$ 59.90 per month and will run 3 months
Classic premium-membership costs AU$ 39.90 per month and will run 6 months
Committed premium-membership costs AU$ 29.90 per month and will run 12 months
The costs on Singles50.com.au are fair as we see it. With reference to that, what you get in return makes the membership worth every penny. But be aware: A paid premium-membership will extend automatically, if it is not cancelled in time by you. So, if you find your dream partner, make sure that you terminate your subscription in time.
Our conclusion on Singles50.com.au
The online dating portal offers a streamlined experience which is specially designed for silver agers. All members are at least 50 years old and know exactly what they want. People here are looking for a serious commitment with a high-level partner. If you have the same goal, this matchmaker might be the best choice for you. In Australia, this site has nearly one million registered people. So, the chances of finding your love here is quite high.
Besides the high number of members this portal can advertise with great performance and smart functions. The operator of the portal is well known for high quality dating portals and will always invent some new stuff to make online dating easier and safer but still retain the great success rate.