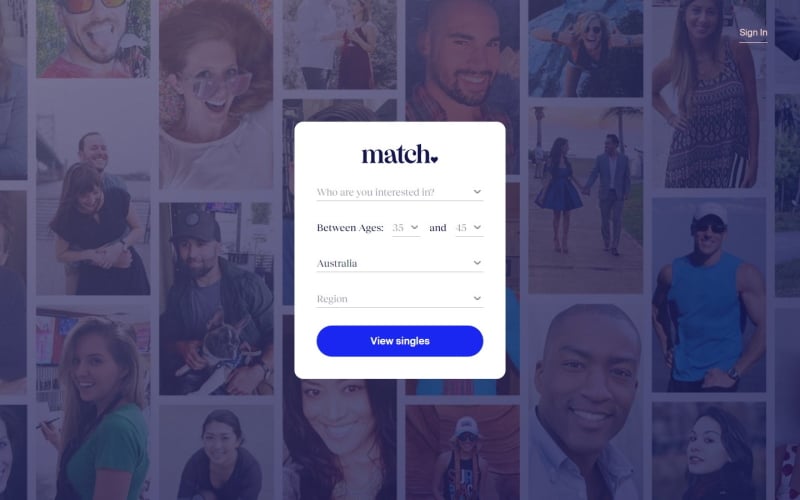 Match: Test winner "Dating site"
The online dating website uk.Match.com deserves the description "oldie but goldie". The platform has a long and successful history in the online dating business. The website was launched in the year 1995 by a small company in the USA. Already after one year the dating portal had more than 100.000 members. Over  time the website has grown and expanded  globally. Nowadays, the network of uk.Match.com counts more than 20 million members worldwide.
Summary
Operator with more than 20 years of experience in online dating
Well known in the UK with good reputations on the internet
Good choice for singles of all ages
Members that want love or a relationship
One of the largest dating networks worldwide
More than 1.6 million people in the UK found their partners via this platform
The dating platform has an app that is free to download
Dating website with an appealing and modern design plus detailed profiles
Special offers like "Match Dining" and organized events for members
In the UK the online dating website that has made it to entice millions of singles from  the country to be a part of it. Thanks to the great offers and services from  the operator plus the modern features of the website it is the often picked choice for people of all ages to search for a partner and relationship. The offer from  uk.Match.com sounds great but is it really worth to give it a try? Well, we took some time and checked the platform for more details. If it is the right choice for you and your love desires in life, you will find out in the following review.
General details
The portal uk.Match.com is well-known in the online dating business. It claims to be the right place for singles that are looking for  relationships and want to meet new people in their lives. Since more than two decades ago the company behind the dating website operates online dating platforms and the offshoot for the United Kingdom is one of the oldest. The network of match belongs to the Meetic Group operates online dating services with a great number of various dating platforms serving over 50 countries and in twelve languages. The operator of uk.Match.com is the Match.com International Limited that incorporated in England and Wales and  is registered in London.
Even though it is a typical online dating service and for the most part does nothing new it has a great reputation. The dating portal makes it easy to handle the website and thanks to the great matching system it is easy to find a good fitting potential partner. Of course it is not just the handling of the website and how people can get in touch with each other while chatting but the nice idea of organized events are for singles of the website only. Since uk.Match.com was available in the United Kingdom the number of members went up and only up.
Thanks to the great looking and modern design of the website it appears very well to the younger generation. But thanks to its easy handling also older people that are trying online dating for the very first time will get along just right. Besides the good design and the huge member's area.   The offers of the platform itself can convince even the last critical person to give it a try. The website guarantees to find you a certain number of potential partners and if not, they will give you an additional premium membership for free. Thanks to the very successful matchmaking algorithm and user friendly interface uk.Match.com is now one of the most popular dating website in this country with one of the largest number of active members.
The member's area on uk.Match.com
More than twenty years of experience left their traces. Regarding  uk.Match.com the trace is a  wide ranged member's area that counts over 20 million members around the globe. Worldwide more than eight million users hold  premium membership and pay to use for the online dating service. That means on  the one hand that the company has the necessary financial background to guarantee the very best service. On the other hand the number of members with  premium membership wouldn't be that high if the quality, the service and the satisfaction wouldn't be worth the money.
The online dating website has more than one million registered members in the UK and about a half million people which login on a daily basis. This  led us to the conclusion that  members have a very high activity. The website claims that over 1.6 million people have already met their partners here on this platform.

The majority of the uk.Match.com members are looking for something serious like dates or   relationships with commitments. If you are a person who is looking for a one-night-stands and quick casual dates you probably won't be satisfied here. Even though you  can still give the website a try as it offers you various events and possibilities to get in touch with others easily. It is not casual dating but to arrange a date with an interesting person after a short time it is  certainly possible.
Regard  the information on the landing page of uk.Match.com the gender ratio is a good balanced. 55 percent are male users and 45 percent are female users. The most members on  the online dating platform are between 25 to 45 years. But as the operator guarantees people in the age of 50 plus can surely find  what they are looking for as well.
The registration on uk.Match.com
The registration on uk.Match.com is simple and done is a few minutes. First you need to indicate your gender and the gender you are looking for. Like on all other websites of the Meetic Group you will see the profile picture of an assistant that will guide you through the registration.
In the next steps the website will ask you for your age, your first name, your location, your e-mail-address and a password. After that you have to confirm  you have read and understood the terms and conditions, the privacy policy, the cookie policy and rules of profiles visibility.
Managing the profile information
After  registration you will receive an e-mail to confirm your e-mail-address and to verify your account. After  this is done you can enter the website of uk.Match.com and start to flirt, date and fall in love.
But of course there are some more things to do which  you will have success in while online dating. The  start will edit more information about your personnel and your desires for your great love into your profile. Additional you can upload pictures onto  your uk.Match.com profile plus some profile pictures. You can provide as much information as you want. The possibilities of describing your personnel are very extensive. But be aware that the more details you  offer for others and the more good looking images you  show on  your profile the bigger your chances are to find a potential partner. The reason is simple!   Everyone will prefer a nice profile with a lot of detailed information about a person, their interests, hobbies, etc. instead of a profile that only shows a short description with a few keywords. With  such an empty profile it does also show a fuzzy profile picture which means the chances of getting contacted by another person are nearly zero.
You can upload up to 26 photos onto your profile and you should take this chance. But only take a good selection of images that show you and your personality in  an advantageous way. Just like  the images you can edit your profile and make it very detailed.  You will have to write a self-written summary of your personnel that will be shown to others, if they  visit your profile.

The more information you  provide about yourself the better  your chances of  finding a good fitting suggestion as uk.Match.com will show a number on every profile which  you  visit. This number is a percentage that shows the compatibility  you and a certain member have which is based on you  and the information of that member. It is calculated by a smart algorithm which  uses details like the provided interests or the information about the perfect partner. That makes it very easy to find what you are looking for.
Besides the suggestions you will receive automatically you will also have the possibility to look for your perfect partner by yourself. The member's area is filled with charming and interesting people that are all open-minded for something and someone new. If the algorithm or you find  a potential partner thanks to the extensive search filters the only thing you will have to do is to get in touch with her or him.
Making the first contact - Getting in touch with others
The online dating platform uk.Match.com wouldn't be that successful and lauded by its members  it would not be so easy to make  first contact. Getting in touch with other members is easy and you can choose various alternatives  how you want to make the first step.
One great feature of uk.Match.com is the so called Affiny compatibility test. The test is about 19 questions long and will ask you detailed questions about your search, your vision of life as a couple, your personality, your taste, your values and more personal information. Based on your answers the algorithm will later check for a member on the online dating portal that will fit to your wishes. If there is a match this member will be highlighted or shown in the section "shuffle".

First of all it is good to know that if you want to get in touch with others and want to have a chat you will have to pay for it. Sending messages to other members on  uk.Match.com is a paid feature which is invoiced by   premium membership. But what you can do with a free basic-membership which  you will receive right after the registration?  Sending likes to other  for free and you can send as much as you want. Additionally you can check in your profile who you sent a like to already and keep  track of it.  It is better to not spam a person with likes as this will lower your chances. One like for the start or in between a chat can be something charming but less is more.
If you want to get started you can either check the tab "Shuffle" which are your suggestions by the algorithm or you check the tab called "Discover" which is the full member's area. There you can discover the wide range of active members of uk.Match.com. In the section "search" the platform will provide extensive search filters that are very easy to handle and  very useful. You can search for gender, age, location, lifestyle and more, like the option to look for a certain keyword that someone might have mentioned in their profile. If you found a good match you can send a like. If a like comes back you can send a message and start  chatting. If you don't want to get that active you can also boost a picture or your profile picture so others might notice and contact you.
Besides the normal chat you have  more features you can use to get in touch. With the feature MatchPhone you can call  other members. That makes it possible to have a nice phone call and if things don't work out you can just hang up. As it is not uncommon that a person gets spammed you can also block a person which  makes it impossible for this member to call you if things don't work out like they should.
If you are not sure how to act on online dating website, you will find some very helpful tips and tricks on the portal of uk.Match.com. There is a section called "dating & relationship advice" which  is about how to act and how to higher your chances of  success but also one section for "online dating safety tips".  You also have the chance to  act invisible and get a better perspective on a certain member. You can buy the invisible mode for one day for (£1.99) or one 1 month for (£9.99).
Last but least the most extraordinary way to get in touch with others are through events on  uk.Match.com. In the section of "Single nights & events" you will find a big varity of events, parties, happenings and more. The good thing is that you will have the first contact in  real life and not alone but in an open-minded community with other singles. That makes the whole thing easier as there will never be an unpleasant break while having a conversation.
Designs and operations
The website of uk.Match.com is very well designed. The colours are strong and makes it easier  to read and write. The colours white and blue are mainly used on the portal. Important links or notifications are shown in a pink colour. Additional the well picked designed makes it easier  to stay on the platform for hours and your eyes won't get tired. Besides the good looking design the website has a good overview and is very user-friendly.

The design is modern and appears in a good and nice shape. That makes the platform attractive to the younger generation but also easy to handle for the older generations  and even people who try online dating for the very first time get along just fine with the operations from  all offered functions and features of the portal.
Flirt to go – the app of uk.Match.com
Just like every other big online dating platform uk.Match.com does offer a mobile version of the portal that you can open with your browser on your mobile devices. Additional you can download the uk.Match.com app via the Google Play Store or the Apple App Store.
The uk.Match.com app also includes all functions and features like  the desktop version but makes it possible to chat and flirt wherever you are and whenever you want to. The app makes it easy to navigate through the portal as the design is good and has a good overview. So even on a smaller device the appearance and the usability stay  on  a high level.
The app does not offer additional features but as we see it has an  advantage compared to the desktop version. You can arrange the settings on  the app so that you  get a notification for every like or every message that you  receive individual.
The website version, the mobile version and the app of uk.Match.com appeared to us very well designed. The design is modern and makes it easy to understand plus use all of its functions. Even though uk.Match.com does not offer a lot of features it is enough and all of them are smart and very useful to find  potential partners, to start a chat and flirt.
The costs on uk.Match.com
The registration on uk.Match.com is  free. Every user first receives a free and unlimited basic membership. The  basic membership allows you to create and edit your profile and to send likes to as many members as you want. Plus you can check the portal and browse  other member's areas to see if there is a potential match on this platform. That makes it possible to see if a paid membership is the right choice for you.
If you want to get started and  send messages to other members, you will need to subscribe to a  premium membership. But the premium membership brings much more than just unlimited messages. If you take the subscription you can see who visited your profile, visit other members without any notice thanks to an invisible mode and you can get the best spot in the daily matches of other members. That will higher your chances of  getting contacted by other members  a lot. You won't need a premium membership to join the events of uk.Match.com but you will receive a discount for the events, if you have one.
The online dating website offers you  premium membership which is offered in one, three and six-month subscriptions. It is possible to pay via PCI DSS, credits card, Mastercard, Maestro, American Express or PayPal.
Premium-membership:
6 months for £9.99 per month
total of £59.94
3 months for £19.99 per month
total of £59.97
1 month for £29.99 per month
total of £29.99
The guarantee for success and satisfaction
The website uk.Match.com  has a convincing reputation by its members. One reason for  good customer satisfaction is the "Match Dating Guarantee". The operator guarantees to find a perfect match. If not, you will get a six month premium membership for free.
Have any questions or concerns – the costumer support is there to help
On the very button on  the landing page on uk.Match.com you will find a link to  customer services which is in regard to the reviews and stories of former customers that we read on the dating portal which are easily reachable, friendly and helpful. If you click on the link "Help/Contact us" you will be forwarded to another section, where you will find some keywords and a query where you can ask your question. Most of the time the solution is simple and someone had the same problem and if so, you will find your answer here.
If not, you can contact the customer services via a contact formula where you can ask a special request. Regarding  the FAQs you should receive an answer in the next 24 hours. Registered members have access to a live chat customer support after login. The "person" is called Lara from Match and is your dating coach.

Our conclusion from uk.Match.com
The online dating website uk.Match.com advertises with a large member's area and that here it is easy to find a good fitting potential partner for true love. After we spent  some time on the platform and while we did our review we found out that the portal really makes it easy to chat with interesting people, to flirt, to date and even meet up on an event with other singles. The price-performance ratio is convincing and the chances to find an interesting person that could be your True love are very high.