AdultFriendFinder
AdultFriendFinder's big advantage is its huge number of members. More than 80 million registered members, its availability all over the world, and its extensive offer makes it one of the best choices for erotic adventures. If you are someone looking for a casual date or if you just want to watch some amateur erotic content, you've come to the right place. Proverbially, you will find everything you desire here.
Summary
It is the largest community for casual lovers and swingers
About 80 million registered members all over the world
More than 7 million members in the USA
Free to explore – and there is a lot to discover
Quick customer service and great security
Variety of ways to get in contact with users
The perfect place for singles, TV, TS, TG couples and married people to get laid
Watch only or interact with others via Live videos
Extensive platform with a member's blog, a magazine, and much more
Costs come from subscriptions for a premium-membership
Points which you can buy or earn
Tokens that you have to buy
On AdultFriendFinder it doesn't matter what kind of sexual preferences or how you identify. You will be always welcome to join in on the fun. This online casual dating website offers nearly everything you can imagine. Plus it is the biggest community for swingers and quite possibly has the most open-minded group of members that you could find on the internet.
General information
Founded in 1996 in California by Andrew Conru, this website has been around now for nearly 25 years. After only a short time the community quickly started to grow and eventually found international success as well. The portal now has three international offices for their affiliated entities in Singapore, Australia, and the UK. In 2007 Penthouse Media Group took over FriendFinder's parent company. Later the name was changed to FriendFinder Networks Inc. In the terms and conditions Various, Inc. is named as the operator for the US region. The headquarters in the US is located in Campbell, CA. Besides the long history of this platform, it is the very large number of members that makes it special.
AdultFriendFinder.com is one of a kind. This online dating website offers much more than just casual dates with people from all over the world. It is the largest swinger community in the world. That makes it to the perfect place to find a casual date or to have an erotic live cam chat with someone that might live on the other side of the planet. Everything is possible right here on AdultFriendFinder.com.
More than 7 million registered users in the US
Besides the huge number of open-minded members, it also has great service and a lot of things to offer. On the portal you can find information about online dating and casual sex, explore the magazine or join the users' blog.
It has more than 80 million users that are registered all over the world. It might just be the best and most successful sex dating platform on the internet. In the US it has more than seven million registered members. This very high number of active members speaks out for the great quality of the platform. It also helps guarantee that you will find at least a few good matches who are looking for the same thing as you are. Moreover, the chances are good that you find people living close to you. With more than 7 million registered users in the US, there is always someone close to you.
Sign-up on AdultFriendFinder
Easy registration in five steps
Requires only basic details
Done in a few minutes
Needs e-mail verification to verify the profile
Later you can upload images
Possible to register as a couple, TV, TS or TG
Variety of options when looking for singles, couples, groups, TV, TS and TG
The free registration process on AdultFriendFinder.com is simple and done in less than five minutes. You will not have to answer a lot of questions about yourself or your preferences. It seems like the operator knows that everyone who registers here wants to get started as soon as possible.
One thing we appreciate on this website is that you can register not just as a woman or man. You have the choice to register as a single woman, as a single man, as a group or as a couple. If you register as a couple, you can choose between a mixed couple (woman and man) or as a same-sex couple (woman and woman or man and man). Moreto, you can register as transvestite, transsexual or transgender.
Plus you can choose that you are looking for a single woman, a single man, mixed or same-sex couples or TV, TS, or TG. In a nutshell, you can register with any kind of gender and sexual preference. That makes the member's pool of AdultFriendFinder.com a mixed and open-minded community. It does not matter who you are and what you are looking for.
Settings, profile set up and search function
After registration, you have the option to enter more information into your profile. It's also recommended to upload at least one good profile picture. Profiles with images are always way more successful as profiles without a picture. You can upload normal images of your face. But as this is an erotic website, revealing images are very welcomed. Some profiles show only erotic images. This is just one more example of how open-minded the users are.
While other casual dating websites do not offer an extensive profile information section, you can edit a lot of details about yourself on AdultFriendFinder.com. In the section "My Stuff" you can edit your profile. If you check that section out you will see that there is a lot of things that you can add.
Some of the members provide a lot of information. They give exact details about their appearance and sexual preferences but also about their personality and thoughts. Profiles tend to be extensive and it is on you to do the same. You can let other people know about your lifestyle and what type of personality you are. In this section you can even find additional questions and a personality test. In the personality test you can answer questions about sexual activities and interests, fantasies, sexual accessories, as well as dreams & goals, physical stuff, entertainment, hobbies, work and so much more.
The member's pool of AdultFriendFinder.com
More than 80 million registered people all over the world
About 7 million members in the USA
Open-minded people
Diverse and sexually active users
Sharing of sexual preference and fantasies
About 50% of its members' in the US are between 25 to 45 years
Nowadays, the online portal counts more than 80 million registered members. Those people live around the world. The website is available on every populated continent of the world. In the US the erotic portal counts for more than seven million users. Regarding the official numbers there more male customers registered. That might be because the website offers a huge section for erotic movies as well. The target group for that section is clearly heterosexual men. But even if there are more men than women, it is still a great platform to find a female match.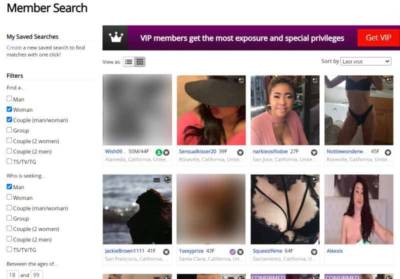 AdultFriendFinder.com has now been online for nearly 25 years. During this time the website has developed a lot because of having such a huge target group. The target group of the website is everyone that has a connection to the internet and who wants to have an erotic experience. The variegated member's pool makes it to a special place on the internet to find erotic content or a casual date.
Come on in and join the fun
The portal AdultFriendFinder.com is not just a dating site. After registration, it can take hours until you've discovered every section of the site. A huge portion of the website is images and videos filled with erotic content. You can even watch full porn movies here.
In a nutshell, people are not just looking here for dates. Not all users are singles searching for a match. A big percentage of the female and couple members are professionals. They are earning some extra money with their movies and live cam chats. The good thing is, that does not mean that you can't have fun with them as well.
It is a common way to get in touch with others on AdultFriendFinder.com via cybersex. You can either watch and make comments or you both have your live cameras activated. If you join a video chat you will have to spend a tip.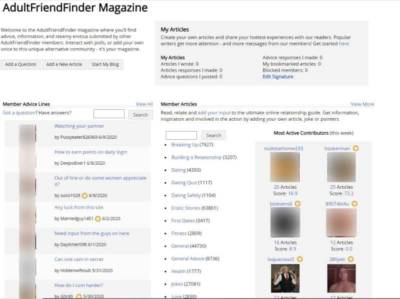 Some messages you receive will be from other members asking if you want to see their pictures, videos, or if you want to start a live chat. In order to do so you have to pay with tokens or points. That can be compared to spam but there is a tiny difference. You can still choose if you want to pay for the content. We do not think you will be disappointed with the rewards that will come from that.
Find new people and get in touch
As already mentioned there are some ways to get in touch with others. During our review we received a lot of messages from interested females, males and couples that wanted to chat with us. What a great place to be in that you can be in touch with so many people. Even if the distance between two members is too big for a real relationship, Europe and the US for example. That does not mean that you can't have an erotic video chat.
To start something new, you have to find a match first. You can check who is currently online and add a profile in your list of favorites which is called "hotlist". It is also possible to add people as friends. Just like it is common on other social media platforms as well. AdultFriendFinder.com can be called a social media website. With some differences like how people chat with each other and what kind of things they have in mind.
You can check all of your sent and received messages in your chat section. There you will find all other activities as well. In this section you can see friendship requests you sent and the ones you have received. Anything that is connected with an action that could reach another person, you will find it here. That is a great plus point as it gives you a great overview.
A private chat is the easiest way
The easiest and most promising way is to start a private conversation. You can send an ice breaker message to every member of the website. An ice breaker message is an automated message. So it is a good way to start a flirt. If you send an ice breaker message, the other user will see a notification that it is an automated message. It is free to like the photos and videos of others. This way you can become a fan and may get noticed by the member.
Remember that a personal message is always better than an automated note. Plus, the members here do not mind a simple written message. It is still better than nothing and the worst thing that happens is that you won't get an answer. Another great thing is that you pay not per message but per month. So you can chat as long and as much as you want to.
Live chat and comments
You can get in touch with other users in the community section. There you can find a lot of different things like a user's blog, a magazine, groups, great erotic stories, and the sex academy. At the sex academy you can find online instructional videos for different sexual practices, tips like how to meet people and much more. There are a lot of things to learn, but you will have to pay for it. The sex academy requires a paid subscription.
In the community section you will also find a section named "contests". The operator announces a lot of different member's contests. For example the best erotic image on a work desk. Of course, there is always a wet t-shirt contest going on. You can join at any time for any contest if you want. There is always something exciting going on plus you can even win great stuff. First place, for example, receives a one-year membership for free.
AdultFriendFinder.com is filled with erotic videos. A lot of them are live broadcasts which you can comment on. That is another way you can connect with other members. You can watch and enjoy, or you can comment and have a chat with the actors. If the user is okay with that, you can even give orders. Moreover, you can activate your camera as well to have a hot live video chat.
Performance and design
Easy and simple to navigate
Great first impression
A lot of features and sections
The design of the portal itself is nothing special. That doesn't mean its appearance is bad or the performance suffers because of that. But the design is very simple. This leads to a big advantage. The handling of the portal is easy as everything is self-explanatory. Plus, because of the simple design, it has a good overview. Even though it has a simple design, AdultFriendFinder.com is still an extensive website. There are so many things to do and discover. For that reason you will need some time to figure your way around. One example is the section "My Stuff". Underneath you will see more than 25 different sections.
The app of Adultfriendfinder.com
The AdultFriendFinder.com app is available for iOS and Android devices. It is also available for mobile browsers, if you don't want to download the app. Either way, the mobile version, and the app all provide essential functions and give you a great overview. The app makes a lot of things easier as it is a bit simpler to handle.
Find your match
You can browse through the member pool and read the profiles of others just for fun. Thanks to the fact that some members are very open about their sexual life, and even share some videos or images, it is a lot of fun to check out the many profiles available.
If you want to find something special, you should use the search function. There you will see six different filters. They refer to what gender you are and what you are looking for. The age range that you prefer and your region are filter numbers three and four. The last two filters are the time you want to have your date and what kind of membership the user should have. In regards to time, you can choose up to three days or up to three months. The last two filters don't make as much sense to us, but the more the better. Plus you don't have to adjust them.
In the "Advanced Search" section you can enter nearly every detail that could help to find a match. From your preference race to the male endowment or the female breast size, you can set up a very specific search. Of course, that will only work if a member provides enough personal data. So, to increase your chances that someone will find you, you should provide as much information about yourself as well. But beware, it is very important that you provide only true information.
The costs on AdultFriendFinder.com
Three different currencies for three different functions
A paid membership is needed to send private messages
Tokens are needed to send messages with a live cam chat
To watch videos and join live sessions you will need points
Section for porn movies needs extra payment with US dollars
AdultFriendFinder.com offers a lot of different features and functions. As you have to spend money on different currencies, there might be a chance of losing how much you're spending. You can check your running bills in your profile settings and see how much money you have spent in the past.
To have a private chat with another member, you will need a premium membership. That membership is offered in a subscription.
One month of membership costs $34.95
3 months of membership cost $19.95 per month
$59.85 for all three months
12 month of membership cost $14.95 per month
$179.40 for one year
Points
200 Points cost $3
500 Points cost $6
1000 Points cost $10
You will need points if you want to enjoy a live broadcast of other members. You won't need points for all available videos but most of the users will ask for a tip first, then you can join the fun. With the points you can send tips, virtual gifts to your favorite members, and bid on them to become their top-fan. A great thing is that you can earn points as well.
Tokens
100 Tokens cost $12
185 Tokens cost $20
500 Tokens cost $50
1000 Tokens cost $99
Tokens are needed to chat with models while they are having a live session. They are needed for private and public shows. You can use them to physically connect with "buzzmode" and the connexion sex toys in the live videos. You can refill your tokens balance automatically or buy them manually.
Our conclusion of AdultFriendFinder.com
With over 80 million members this erotic portal is one of the largest adult casual dating sites in the world. It convinced us with a large open-minded members pool that is filled with all kinds of people. It is easy to arrange a real-life or cybersex date. Also it is open for singles, couples, polygamists, affairs, friendship plus, monogamy, and much more. The portal AdultFriendFinder.com is more than just a casual dating website. It is probably the most extensive erotic portal where everyone is welcome and where you can find whatever you desire.