Academic Singles: Test winner "Seniors"
Academic Singles is one of our top sites in the category matchmaker for seniors. The platform brings you a highly educated and high-class members' pool, with a large number of active users. Millions of people trust this website, and many have found their big love here already. In Australia, Academic Singles is becoming more and more popular so the chances that you will find your partner on this portal are quite good. Thanks to the big members' pool and high average age, this portal is perfect for silver agers.
Summary
One of the best dating portals for intellectual and academic singles
An extensive personality test must be done during the registration
The test is the basis for an accurate match finding system
A high dating rate plus a success rate of 41%
Millions of people have joined the network all around the world
Academic Singles Seniors has nearly one million members in Australia
More than 24.000 people join the matchmaker portal every day
Many older people and seniors are looking for a partner here
A balanced gender-ratio with 51% male and 49% female members
The website is operated by a well-known and trustworthy company
A perfect place on the internet to meet educated people
Video-call is now possible
Verified profiles and a safe platform for best security
A convincing price-performance ratio
The online dating website Academic Singles exclusively aims for ambitious and educated people who are looking for a partner. The goal of the portal is not to simply generate as many dates as possible, it is the quality of the potential partners which is a priority. Members here are looking for a solid partner, a long-term relationship with a trustworthy person on a higher level. Academic Singles will help you to find the right match for you based on an extensive scientifically designed personality test. In the following article you will find out why Academic Singles is just great for senior dating.
General information
The online dating portal Academic Singles Seniors is a matchmaker and a great choice for seniors. Matchmaker means that the members of this platform are looking for a solid and serious relationship. The character of the members, the way the users get in touch and what they aim for, is the opposite of a casual dating website, where the people are looking for a one-night stand or an affair. Here on Academic Singles people want to search and find the right one.
This senior dating platform is operated by Be2 S.à.r.l., which is also the enterprise behind other solid dating platforms like Be2 or C-Date. The company is in Luxembourg and is classified as trustworthy and safe with a high customer satisfaction rating. The operator has run its solid working network of dating websites for many years, Academic Singles has been available in Australia since 2008. Since that time, the numbers of members have risen, and the number of senior singles is rising as well.
The user satisfaction is just great on the websites of Be2 S.à.r.l. This operator seems to know exactly what people are looking for and how to create a solid platform for that. Academic Singles can advertise a high level of customer satisfaction as well. The reason for the high success rate of the matchmaker is the scientifically based matchmaking system which relies on a wide-ranging personality test.
Based on your answers an algorithm which works very accurately, will find your perfect match in the members' pool of Academic Singles. The website will only show you potential matches that are very compatible with you. The questionnaire in the scientifically based personality test is about your attitude, desires, expectations and opinions about life and love.
Design and operation
Modern design
Useful functions that are easy to handle
The operation is simple thanks to the great overview
Academic Singles comes in a modern design that is both appealing and simple do use. Younger users are not bored, and older users are not overwhelmed. There is not much by way of fuss and frills, but with a name like Academic Singles, that only seems apt. The mainly colours used are white and bright blue as background colours. The characters are either coloured white or black. That makes the words easy to read and your eyes will not get tired even after chatting for hours and hours with your match.
TEST ACADEMIC SINGLES FOR FREE NOW!
One more reason why Academic Singles is extremely easy to handle, is that there are no special features that are too complex to use. But of course, this matchmaker offers all the important features and functions to find the right match for you. The operator knows that especially the older generation use this portal and they have arranged most of the portal to fit the preferences of their target group.
All settings and profile arrangements are self-explanatory and easy to edit. If you visit another profile, you will know in the first few seconds all the important data about the other members, plus Academic Singles will show you a number which gauges your compatibility. That makes the portal altogether quite simple to handle and to find a match. Additionally, the modern design provides a great overview of the members' pool, features, and a chatroom.
Academic Singles app
Academic Singles is a modern-day website. Of course, this platform provides an app for iOS and Android devices. You can download the app for free either via the Google Play Store or the Apple App Store. The app has the very same design as the website version plus it comes with all features and functions. One advantage you have, if you install the Academic Singles app on your phone, is that you can turn on the notifications to see immediately when you get a new match or when someone has sent you a message. Surely, the main users of the app are the younger generation. But thanks to the great design of the app it has got a good overview. So, if you are used to a smartphone, the handling of this site will not be any challenge to you.
The registration on Academic Singles for Seniors
The registration includes the personality test
You have to take the questionnaire for the registration
There are no wrong answers
Take your time and do not answer in a hurry
The registration will take between 10 – 15 minutes
The registration process on Academic Singles takes about 15 minutes. That sounds like a lot of time for the registration but there are reasons. During the registration you will complete a personality test plus add your personal information, like your age and looks, the after the questionnaire. Before that, you have to enter your own gender and what you are looking for. This site is for straight and gay people. After you have provided your e-mail-address as well, you will start the personality test.
On this questionnaire you will have to answer a wide variety of questions which are about your personality, your character, and your preferences for your perfect partner. The questions in the personality test are detailed and clearly understandable. So, it will not happen that you will be unsure what a certain question is about or what you should answer.
Do not answer in a hurry
On the one hand the questions of the personality test are simple but on the other hand you should answer the questions seriously and take your time. The reason for that is, that all your answers will be processed by an algorithm. Later, after the registration, this algorithm will provide you with potential matches that are based on your answers. The more time you spend on the personality test and the more precisely you answer the questions, the better your matches will be.
TEST ACADEMIC SINGLES FOR FREE NOW!
In the end, you are the one who will profit from your accurate answers plus you will save some time and effort. If you do not answer correctly you might need to make some changes later. Plus, if you do not answer honestly, your perfect match is not able to find you either. Of course, your character is not carved in stone. You will go through some changes in your life that might change your attitude. As such changes do not come every day, you can edit your personality test only once after you have done it.
Set up your individual profile
Extensive profiles with a lot of details about a person
You can create an individual profile
Additional information about your interests, views and values can be selected by using images
Upload a maximum of five profile pictures
After the registration and the personality test is done, you have to verify your e-mail address. Then you can visit the members' pool of Academic Singles Seniors or edit more details in your profile. We recommend that you spend some time on creating your own individual profile to have better chances while dating. The reason is that the more information you will provide, the more another member can find out about you. Only in this way will other users get in touch with you.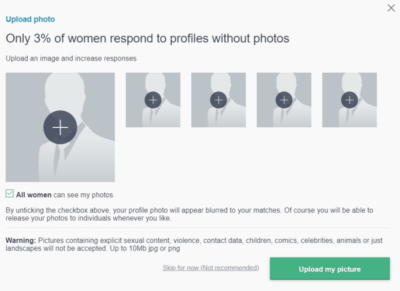 Plus, the algorithm works much better with more information, to find someone or to get spotted as a potential match by another users' search. As Academic Singles is a matchmaker, it does not matter if you are a female or male user. Both genders will take their chances if they find a good match, but only if they can find enough details about a potential partner.
Views and values
You can customise your profile very individually by editing different themes and topics. This way a potential match will see on the very first impression, if you have something in common or not. Academic Singles makes it possible for you to make contact by mutual interests, views and values.
Academic Singles for Seniors makes the selection of those topics easy and the implementation of that information is modern. In your views and values other members will find out, what is important for you. There you will provide details about your lifestyle or what is important to you regarding friendships and relationships. One example is that you can let other people know more about your lifestyle by selecting an option about which location you prefer. A remote island, in the mountains, on the countryside, close to the ocean or in the middle of a city.
The members' pool on Academic Singles
More than 900.000 registered singles in Australia
Millions of active members
The majority of members are middle-aged
Many senior users are registered here
51% male and 49% female members
A high success rate of 41%
Well-educated people chatting on a high level
In your profile settings you can just edit information about yourself and your interests. You can also adjust the setting for your search criteria. The search criteria are about your preferences for a partner. In this section you can edit the age range of your potential match or in which region you are searching for a partner.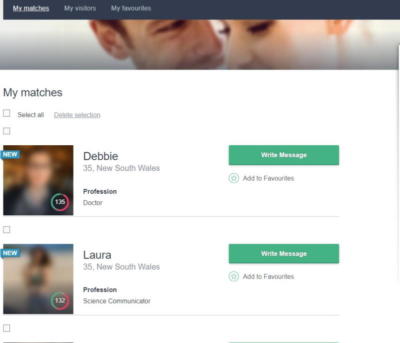 Most of the registered people on Academic Singles in Australia are middle-aged. But as the popularity of the portal increased a lot in the past, the number of members did as well. Plus, as the site is a matchmaker with a high success rate, it became a popular alternative for silver-aged singles.
It is the combination of your search criteria and the results of the algorithm based on your answers of the personality test which determines matches. If you have set up all the required details and uploaded some images of yourself, you can visit the members' pool to look for your matches. Academic Singles does not show you all members of the platform but only a well-chosen selection of potential matches only for you. All the members you find in the section "My Matches" are potential matches, and if you want, you can get in touch with each one of them.
How to get in touch with someone
The matchmaker Academic Singles makes it easy to get to know each other. One nice feature is the so called "Ice breaker". The ice breaker is comparable to a personal message from you. If you do not edit the ice breaker message it will say: "What a wonderful day – and you can make it even better if you write back to me!" That sounds lovely and it is a charming way to make the first contact. Of course, it is better if you create your own version of an ice breaker.
TEST ACADEMIC SINGLES FOR FREE NOW!
More options to get in touch with a member are by liking the profile of a member or by sending them a like smiley. Academic Singles offers a selection of different smileys. You can send a discreet smiley or a wave. Or you can try your luck and send a kiss smiley straight away. One more alternative for the first contact is to share your personal images with a member. If the other member likes what she or he sees, she or he might return the favour and share her images with you as well. In a nutshell, Academic Singles offers you a variety of different ways to get in touch with another member without any words.
But always remember that a personal private message is not just the most common way to get in touch. It is also the most successful way. Of course, the message should be charming and nice. With age, there comes experience, so it should not be too difficult to find the heart to write a friendly message to one of your matches. If you had not been in the game of dating for a longer while and are too shy to send a private message, the other functions will be a great helper.
Talk with your match via a video-call
The operator of Academic Singles is known for its constant effort to create a high degree of user satisfaction. Since the algorithm works perfectly and the site has got great handling, it was time for something new. A video -call. Most of the social media sites used this already and now it possible on this matchmaker as well. You can call your match via the laptop, app or the mobile version. Of course, you have to ask your potential partner first for permission to call her or him.
After you get permission you can call at any time, and for as long as you want. If you do not want to call with a video, you can call without the visual appearance first. That is perfect for all singles who have found a great match and want to take a further step but are not ready for a real date yet. Thanks to the video-call you can see and hear your potential dream partner. This way you can find out much more, and way faster, than while chatting and typing.
The rates on Academic Singles
The costs originate via a subscription
Premium-membership is available for 3, 6 and 12 months
The subscription with extend automatically
Deadline for termination varies
Good price-performance ratio
Academic Singles Seniors offers you a free registration and a free creation of your profile. Additionally, you can visit all sections of the website. Plus, you can receive messages from other premium-membership holders and send smileys to all other members. After the registration the profile pictures of other members are blurred. But you will not need a premium-membership to see the pictures. The only thing you will have to do is to upload at least on picture of yourself as well. Then you can also see the profile pictures of all other members.
But if you want to see all images of all members that are hidden in the profile, you will need a paid premium-membership. You will also need a paid premium-membership to send unlimited messages to all members, to see which member has visited your profile, and to add other users to your private favourites list.
The costs of the premium-membership are:
3 months cost $90 per month
6 months cost $90 per month
12 months cost $90 per month
The subscription for the premium-membership will renew automatically. That is the only critical point we need to mention about the payment here. If you took a subscription for a 6-month -membership, by the end of it, it will be renewed for another six months, if you miss the deadline to cancel it. The deadline for the cancellation depends on the term of the subscription. If you took a 3 months subscription the deadline for termination is three weeks. If you took are 6 months subscription the deadline is six weeks and for 12 months the deadline is 12 weeks. So, you should always remember to cancel your subscription in time or when you have found your match.
Our conclusion on Academic Singles for Seniors
Academic Singles is regarded as one of the best matchmaker platforms worldwide for many good reasons. Here in Australia it became famous in a short time and counts a high number of active members today. Most of the users are middle-aged and even older, so if you are part of this generation and are looking for a serious commitment, this website might be the best choice.
Although the site offers modern, smart features to find and contact your match, it has got a simple handling. The members' pool is filled with high-quality users that will chat on a high level. Plus, the operator of the portal is well-known for its safe websites which guarantee full customer satisfaction. The video-call feature is just one of many new features and just one of the many reasons to try this matchmaker.