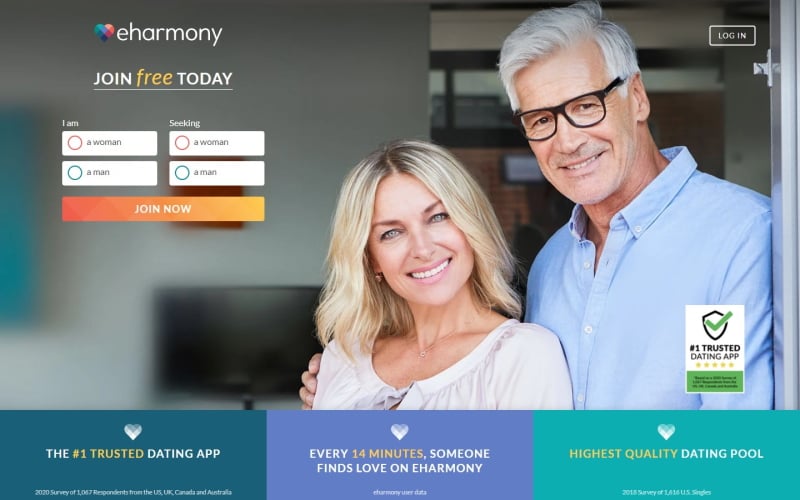 eharmony: Test winner "Seniors"
eharmony is one of the best dating sites for older people who are looking for a serious commitment. It helps senior singles to find the very best match for them from their region according to their preferences. This works well thanks to its specific matchmaking system which is based on psychological studies. Moreover, the website has got a high number of members and is available from all over the world.
Summary
One of the best choices for people who are looking for a serious commitment
A highly regarded dating portal with a lot of successful love stories
Balanced gender ratio of 51% men and 49% women
More than 30 million users all over the world
About one million registered people in Australia
High number of senior singles
Scientifically designed questionnaire
Great matchmaking thanks to an extensive personality test
Modern design including features like the video-call
Good solutions for personal data protection
One of the most highly regarded customer services that is available 24/7
Costs originate via a subscription for a premium-membership
eharmony is a matchmaker that can advertise with a great reputation. Millions of people all over the world have joined the platform over the past 20 years. As the operator claims, a lot of people have found their loved ones here and even got married later. Thanks to the high number of members it is also great for senior dating. There are many more positive things to mention about this special site.
General information
In the year 2000 eharmony started in the US and went international after a little while. Shortly after it reached Australia, it became one of the best choices for people looking for a serious relationship. According to the operator, this site is responsible for more than 11 thousand marriages.
Now, eharmony is a modern-day matchmaker and a good choice to look for love or a serious relationship. This portal receives mostly good impressions from its members. More and more people join the platform around the world. Today, it convinces new customers with a high success rate plus a high number of members. That is the perfect combination for good customer satisfaction.
The customers of the matchmaker are users of all ages, simple because there are people in every generation who do not want one-time casual adventures. That might be more of a thing for the younger generation. This also means that the users of this matchmaker are mostly older-aged singles. That is one of many reasons why this is a great dating portal for seniors and silver agers.
Another reason why this website has got a good reputation is the personality test. This test is based on a scientifically researched questionnaire. Every new user must take this test which is done during the registration.
TEST EHARMONY SENIORS FOR FREE NOW!
So, it is the portal´s operator experience, plus a continuous improvement of the services which have made eharmony the highly recommended matchmaker that it is today. That does not only save you time but also sorrow. A broken heart or a rejection on a date, even if it is an online date, is hard to take. Thanks to the great matchmaker service you will get only potential suggestions that will match with you perfectly.
A great and successful history
The operator of the portal is eharmony Inc., which was founded by Dr. Neil Clark Warren, is based in Los Angeles. Warren was a clinical psychologist for more than 35 years and dedicated his entire work and life to only one thing. To help others to find love and support them in their search for the right partner for a relationship.
Because of Warren's professional experience, the matchmaking system is based on a scientifically based questionnaire. That test leads to the excellent results for the matchmaking. eharmony offers varied information about the platform right from the start. In general, it is an extensive website with a lot of things to discover. But everything is easy to find and simple to handle, thanks to the great overview.
In the section "Dating Advice" you will find comprehensive information and dating tips. Here you will find more information about how to use the online dating website eharmony. There are some details about the compatibility system of the portal and what exactly the compatibility wheel is all about. Moreover, there is extensive information for people who try online dating for the first time. Those details are generally for senior singles and a great help for successful dating and finding your love.
Design and performance
The platform eharmony has a modern-day design with a nice and appealing impression. It has got a user-friendly interface which appeals to users of all ages. Thanks to the great design the portal guarantees a good clear overview. The use is quite simple as the portal has only got a few features available. That means, even if you belong to the older generation and try online dating for the first time, you will get along with the use of this site easily.
There are just a few icons and functions which are easy to find on the top of the interface. The colours are mostly white and light blue. eharmony comes in a minimalist design which guarantees a great overview. That makes the characters easy to read. It also ensures an easy operation plus every single function of eharmony is self-explanatory.
The mobile version and the eharmony app
The app of eharmony is available for Android and Apple devices. It is for free and it offers all functions of the desktop version. Even though the app and its overview are great, we recommend you complete the registration on a computer or a larger screen. If you are used to a smartphone, it will be no challenge to use the app of eharmony as well.
TEST EHARMONY SENIORS FOR FREE NOW!
By comparing the handling and overview between the app and the mobile version, the app is more convincing to us. It has got better handling and overview, plus the performance is much faster.
The registration process on eharmony
Possible to register via e-mail or Facebook
Takes around 20 minutes to finish the registration
You will answer an extensive questionnaire
Before you start the registration on eharmony make sure that you have time for it. The website does inform you that you will need around 20 minutes to finish everything. The reason why it takes so long is the scientifically based questionnaire. Your answers will be used by the algorithm later to find the right match for you.
The platform uses verification with an SMS service to verify your identity and your profile. Usually the verification is done by e-mail but not there. Plus, the verification is done only when you join the website's premium-membership. Therefore, you can use the portal right away and do not have to wait for the verification e-mail to reach your account. Plus, this way people can join this portal who do not have an e-mail account at all.
Before you enter the portal, it comes up with the questionnaire for the compatibility matching system test. That includes questions about yourself and how you usually act in certain situations. It is recommended that you take the time you need. The questions are very simple and easy to understand. To answer you will pick some words or sentences out of a list, so it has got a simple usage for all generations. Just make sure that you answer spontaneously and honestly at the time. At the very end of the registration and after the questionnaire, you must provide details like your full name, age, region, and occupation.
There are no wrong answers
The personality test is about your free-time activities, interests, hobbies and music preferences. There will be some questions about what you desire, what you want and what you expect from your partner. The test will come up with some situations that might happen in a relationship. Then you have to choose how you would react. For example, there will be questions like if you like to sleep with an open window.
Later it continues with how you plan your holiday or what kind of flowers you prefer. Then at the end it will become more difficult and quite specific. At this point you have to answer how you would act in an unpleasant situation like in a fight with a friend or your partner. The questions asked are simple and should be easy to answer for any age. Plus, as most of the questions are about your perspective on a relationship, silver agers and seniors will surely know their answers in just one second.
This questionnaire is therefore used to find a match that will fit to your interests and behaviour. The more time you spend on the test, the better and more satisfying your partner suggestions will be later. You can edit your answers after of the test is done but only one more time. So, make sure that your answers are right for you.
How to set up your profile
After registration and the personality test are done you can edit even more information in your profile. It is recommended that you upload images of yourself to get more reactions from others. The reason is that everyone prefers a profile with a lot of details and a great looking profile picture. User profiles on eharmony are very detailed and it is a lot of fun to just read the descriptions of others.
In general, the more information you provide the more success you will have later while chatting with your match. Thanks to the personality test which every member must fill out during the registration, there will be a number on every profile. That number shows the compatibility rating with another user. So, thanks to one number you will know in one glimpse how good you would fit together with another member. Of course, that only works if you provide enough information and answer honestly.
See the compatibility wheel
You can edit your preferences, interests and much more in your profile. There you can also provide more information like what your skills are or what you are thankful for. In a nutshell, if you read a member´s profile on eharmony, it will provide you enough information to find out if you might like that person or not. If you take the time and read one profile completely it will take some time. But that time is surely not lost and should be a motivation for you to do the same. Create your own individual profile to receive positive attention.
Thanks to the number that is shown on the compatibility wheel, you find out easily whether a relationship could work out or not. Other users will also visit your profile as you might appear as a potential match in their suggestions as well. Then those people will also want to read further information in your profile. They just want to know a little bit more about you and your life and there is simply no reason not to do that. Especially if you are a senior single, surely you have got a lot to tell. There is not one reason to be shy. The members of this portal are well-educated, friendly and open for everyone.
TEST EHARMONY SENIORS FOR FREE NOW!
If you find a match, you can start a conversation in different ways. Before you start, you should check out the members' pool and find some potential matches.
The member structure of eharmony
International member's pool with more than 30 million people globally
High success rate for senior singles
About one million users in Australia
Many seniors and silver agers looking for a partner here
The site eharmony has got a high number of members all around the world, who are looking for love. Its member structure offers a truly diverse members' pool. The registered people come from every strata of society and all age groups. One reason for its great variety of users is that people of all generations are looking for love and someone to rely on.
Surely, young people want to have a relationship as well. But this goal is more common in the older generation, so the users are mostly older people. That makes it a great choice if you are part of the older generation and can call yourself a best ager or silver ager. Plus, the high percentage of older users guarantees the high quality of the members' pool of eharmony. The site´s operator even claims on the landing page that it has got the highest quality dating pool.
The members of eharmony are well educated, have a stable way of life and are looking for a match to chat on a high level. As mentioned before, the users are looking for the right partner to spend many years with or even longer.
There are different ways to find a person. On the one hand you will get some partner suggestions that are based on your answers on the personality test. On the other hand, you can check the members' area by yourself.
Getting in touch with other people on eharmony
eharmony offers many different functions and features to get in touch with your match. One of them is very new and extremely useful. But before we explain more about that feature, we want to talk about the basic features which you can use to contact your potential dream partner.
TEST EHARMONY SENIORS FOR FREE NOW!
If you visit a member´s profile you will see a selection of options to help you make the first contact. One great way to get in touch with your match is to send automated questions. Those messages contain a simple question about topics like lifestyle, hobbies and so on. This way you can start a conversation even without writing a message by yourself.
Moreover, you can send a wink which is available for free. The wink is a little smiley, so that might put a smile on the other users face as well. That is another way to start a chat without a word. If you find such a potential partner, you can also add this user to your favourites list to contact the member later. The better way might be to take your chance right away and make contact.
Find a person who interests you a lot
On every member´s profile you will see the compatibility rating on their profile. This will show you a number, and the higher the number means you are more compatible with a certain member. The chances that you will receive a smile back from a user with high compatibility is quite good. Also, the automated messages will usually be answered. But if you find a person who interests you a lot and shows a lot compatibility for some reason, make sure that you get in touch with your match.
You will have best chances of success, if you start with an individual and charming message. Most of the members on eharmony are looking for a nice partner and are open-minded to a friendly person. So, if the first impression is right, there are no reasons at all why your match would not reply. Seniors especially, know exactly what they want and what they do not want. Plus, silver agers have got the time and decency to write you back, even if they are not interested.
The great new feature – the video-call function
Just think about the following situation. You are in hurry or do not know how to reply to a complex question from your match. Some things are just easier to talk about on the phone. That is now possible on eharmony as well. It is a great new function that allows you and your match to exchange a lot of details in a short time. But there is much more than just the number of things that you can talk about.
TEST EHARMONY SENIORS FOR FREE NOW!
It is more about the quality of talk and the emotions that will be created during the call. Plus, thanks to the video, you can see your match as well. The video-call is the perfect step in the mid-way point between chatting to get a first impression and arranging a date in real life.
The fees on eharmony
The website eharmony offers free and paid services. To register here and do the personality test is for free. Also, to set up your profile and check out other profiles is completely for free of charge. Other free functions are about how to get in touch with someone.
But if you want to see the images of others, check who visited your profile, add someone to your favourites and to send unlimited messages, you will need a paid premium-membership. This membership is offered in three different subscriptions with different terms and costs.
The premium-membership Light runs for six months. This subscription costs 90 AUD per month.
The premium-membership Plus runs for 12 months. This subscription costs 90 AUD per month.
The premium-membership Extra runs for 24 months. This subscription costs 90 AUD per month.
If you are new here and want to make your first purchase on eharmony, the operator offers a one-time discount of 50% for the first three months. So, the first three months of the light membership will cost only 27.95 AUD per month, 17.95 AUD per month for the plus membership and 12.95 AUD per month for the extra membership.
Our conclusion from eharmony
The online dating website eharmony is one of the best matchmakers that is currently online in Australia. People who register here have a few things in common. They are looking for love, are well-educated and communicate on a high level. Its members' pool is filled with interesting individuals of all ages. As many silver agers are registered here, this site is a great choice for senior singles that want a commitment.
eharmony has got a great performance and is extremely easy to handle, even for people in the older generation. Plus, most of the work is done by the portal anyway. Thanks to the scientifically based personality test you do not have to find your match by yourself. A smart algorithm will check all possible members for you.